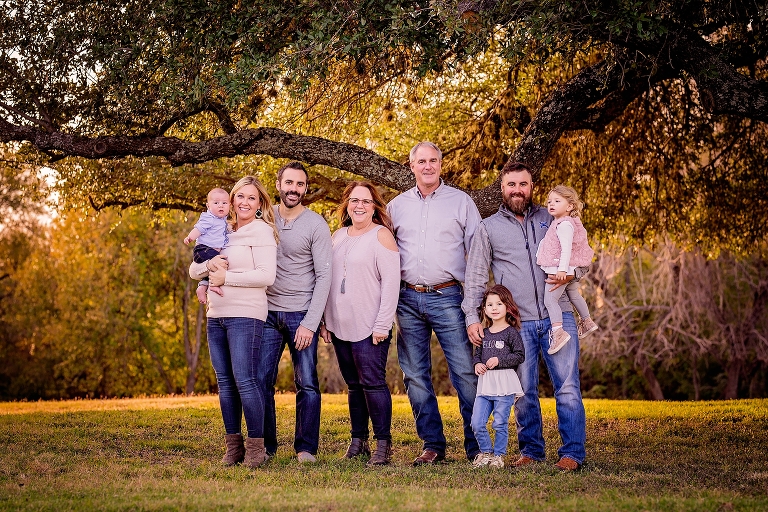 The Boone family hands down got one of the most beautiful golden hours I've photographed recently!
It was a fairly windy day in Round Rock, but I still wanted to surprise the family with my new teepee set up. When the two little girls, Gracyn and Harlow saw it, they were so excited to check it out! Little Remington was such a handsome man in his outfit. Just look at his little shirt/tie combo! He had just learned how to sit up by himself not long before the day of their session! I was excited for his parents, Kate and Clayton, as they now are able to have these gorgeous photos of him all by himself!
When it came time to take some photos of just Gracyn and her dad, Casey, she just wanted to showcase how she does backflips against him. I thought this was just too adorable and she had a blast the entire time! The grandparents, Laura and Herman were just too sweet. Doing portraits of just the two of them together was so delightful and I adored seeing the love they shared for each other. Kate and Clayton were the sweetest, and I loved getting some shots of them sharing giggles with Remington! However, I think they also got some of the sweetest images of just the two of them together.
Boone Family, you are all so amazing and sweet! Thank you for letting me be a part of capturing these beautiful memories for you all. Kate, thank you so much for organizing this session for your family! You were all so great and hilarious. I appreciate all the help I got from you guys to get the kids looking and laughing. Your noises, dances, clapping and silly faces were definitely some of the best I've ever seen! :)
I hope you enjoy these for years to come and I look forward to working with you all again!